Elite Laser & Skin Care Center offers a wide variety of medical cosmetic services. Our philosophy of 'Prevent, Restore & Enhance' helps tell the story of how we will make you look and feel better.
We believe you deserve a personal plan that fits your current needs and we pride ourselves on recommending the appropriate treatment plan customized especially for your skin.
Below is a summary of our most popular services and how they can help you or a loved one.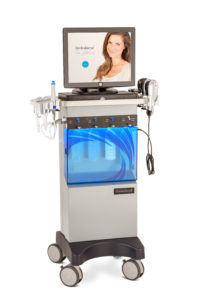 HydraFacial
Only hydrafacial uses patented technology combined with nourishing ingredients to create an instantly gratifying glow. Frequent treatments help restore skin health. We can customize your treatment to your specific skin care needs such as, but not limited to, brightening hydrafacial, acne hydrafacial, anti-aging hydrafacial, and collagen boosting hydrafacial.
Hydrafacial delivers instant and long lasting results that you can see and feel. In just 3 steps you can have the best skin of your life. Hydrafacial cleanses and peels the skin then estracts and hydrates. Lastly, by fusing and protecting the skin, the skin's surface will be saturated with antioxidants and peptides to maximize your glow.
Body Sculpting - CoolSculpting®
To best assist you in achieving the body you want we offer CoolSculpting®, for Nonsurgical fat elimination without downtime. The CoolSculpting® process effectively and gently targets the fat cells underneath your skin and delivers precisely controlled cooling for targeted results.
CoolSculpt your body to address your problem areas. CoolSculpting is a fat-freezing procedure, and is the only FDA-cleared, non-surgical fat-reduction treatment. Eliminating stubborn fat that resists all efforts through diet and exercise.
Microdermabrasion
Your skin can be revitalized and refined quickly and conveniently. Each treatment is quick with no healing time to keep you from work or social activities. With two options for microdermabrasion (both with crystals or diamond tip), we have a skin refinement option for you to gently polish and gloss your skin to a radiant appearance.
Microdermabrasion treatments use a minimally abrasive instrument to gently sand your skin, removing the thicker, uneven outer layer giving it a fresher, clearer appearance.
Fine lines, uneven surfaces, and irregular pigmentation can be improved, including treating light scarring, discoloration, sun damage and stretch marks. Your skin's texture becomes softer, smoother, and more radiant with repeated treatments.
Chemical Peels
Rejuvenate your complexion with an Elite Med Spa Chemical Peel.
Chemical peels have been shown to reduce the appearance of fine lines and wrinkles, lighten dark spots for a more even skin tone, and smooth and soften the skins texture. They also help to open clogged pores for patients with oily and acne prone skin.
VI Peel
VI Peel consists of 5 Custom Blend Options designed to alleviate acne and scarring, lift pigment, remove sun damage, and fight fine lines and wrinkles. All these painless medium-depth VI Peels are safe for all skin types and tones with results in as little as 7 days!
Five Medical Grade Chemical Peel formulations from the Vitality Institute with a goal to restore your confidence and help you reach your true life potential.
VI Peel with ToxBooster™
While the VI Peel suppresses and lifts pigment, the ToxBooster targets wrinkles for improved results in the same appointment.
Laser Hair Removal
Unwanted hair can be treated quickly and effectively using the latest generation laser system. Hair can effectively be removed from the face, lip, chin, neck, underarms, bikini, chest, legs, back and other areas.
All hair removal lasers work by targeting the pigment within the follicle which means the darker your hair the easier it will be to treat. However, our laser treats a full spectrum of skin types and hair color. Most patients require 6-8 treatments for an effective reduction in hair.
Lasers for Pigment Free Skin
Pigmentation such as age spots, freckles, birthmarks, and other types of pigmented lesions arise from a wide range of natural and environmental sources including photo damage, genetic makeup and the natural aging process. With the clarity laser we can treat these conditions. Typically, 1-2 treatments are needed to achieve the best results.
IPL (Intense Pulsed Light)
Intense Pulsed Light treatment is a non-invasive procedure that reduces the appearance of pigmented skin, rosacea, sun damage, age spots, and other imperfections. This is achieved by delivering specific pulses of light wavelengths which help break apart and stimulate the body's natural reparative processes. Patients usually require 1-3 treatments for optimal results.
IPL can be used to help restore the skin's youthful appearance. IPL can treat various skin conditions, improves the appearance of photo-aged skin, removes sun spots, and helps reduce redness caused by broken capillaries. Offering a variety of filters for skin rejuvenation, vascular rejuvenation and acne, we have the right choice for you.
LaseMD™
The benefits of LaseMD GLO are endless. Customized treatments rebuild healthy skin, rejuvenate pigmented skin and resurface fine lines and wrinkles.
LaseMD GLO fractional thulium laser treatment produces several deep tiny columns in the skin. This kick starts a reaction in the dermis that leads to collagen remodeling, new collagen formation and improvement of skin pigmentation.
Skin Pen Microneedling with PRP
PRP can be used with conjunction with Microneedling and can further enhance the results of the Microneedling. This is sometimes referred to as the Vampire facial. Some benefits include: improved appearance of fine lines, wrinkles, acne scars and pores reduced redness caused from broken capillaries helps lighten sun damaged areas improves the overall skin tone, and gives skin a smoother and firmer appearance. See more details on our Skin Pen Microneedling page
Platelet Rich Plasma (PRP injections)
Platelet rich plasma is derived from your own blood and injected into the skin for facial rejuvenation. PRP stimulates collagen and elastin production effectively smoothing fine lines and wrinkles and also thickens and tightens thinning skin. Injections can be done as a stand alone procedure or in conjunction with Microneedling.
PRP injections are also used to stimulate hair growth by increasing blood supply to the follicle, thus making them an option for certain types of thinning hair and hair loss.
Microblading
Microblading is a semi permanent tattoo technique used t create the illusion of fuller brows. A small handheld tool is used to manually recreate natural looking hair strokes into thinning or sparse brows.
Dermaplaning
Dermaplaning is a procedure that uses an exfoliating blade to gently remove dean skin cells and hair from your face. dermaplaning also promotes a deeper penetration of your skincare products, enhances the overall tone and texture of yours kin. Skin appears hydrated and luminous. Dermaplaning can also be combined with other treatments such as chemical peels and hydrafacials.
Lash Lift & Tint
Lash lift is a procedure that can gently curl or fan out your natural eyelashes giving you a fuller and more enhanced lash.
Injectables
Hyaluronic acid is a natural occurring substance found in your body. It helps keep the skin plump and hydrated. Injectable hyaluronic acid is a type of temporary dermal filler that can reduce the appearance of fine lines, wrinkles and facial folds and create structure, framework, and volume to the face and lips.
Please contact Elite Med Spa today to schedule an appointment to review your goals at 302-294-6305.